We specialize in the difficult-to-fit to the impossible-to-fit, as one customer put it. This can be a petite gal to a very curvy gal. Pre-teens to grandmas and all of us in between. Shopping for the whole family in one-stop shopping is what we are trying to achieve.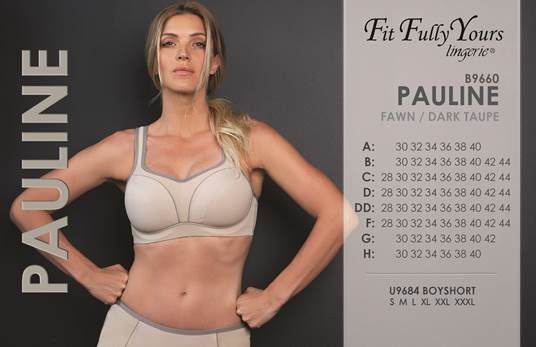 Just because you think you are a normal fit that can go to a department or chain store, does not mean you are in the right fitting bra! Most women wear 2 bands too big and 3 cups too small. 95% of our customers that walk through our doors are in an ill-fitting bra.
Please come in and let the knowledgeable staff help you get sized from a pattern maker & designer perspective. Angela Craig is the owner and has trained all her staff accordingly to a manufacturer's European standard.
We change all our lives, let us help you feel bodacious from the inside out through all those changes, like one of my staff coined the 3P's of life: puberty, pregnancy, and perimenopause.
Custom fitting and sizing are our specialty! Sizes 28AA to 54L with some sizes going into N, and O. Basic stock 30A to 46J, 44K, 42L, 40M. Lingerie XSM to 4XL basic stock with specialty going up to 8XL this has to be ordered in, some 5XL and 6XL in stock.
Special Orders – Choose from a variety of catalogues from basic bras to the playfully exotic fun and sexy XSM to 6XL.
All your Bridal, Graduation, and Occasional Wear needs.
Alterations and modifications are part of our service. Minor alterations are free with purchase others there is a fee attached. We will maintain your bras for the first 2 years unless they are loved beyond maintenance.
Sports Bras and comfort bras for post-surgery and sleeping. This includes wire-free options.
Maternity and Nursing Bras. We do nursing bra conversions for the difficult to fit sizes. This is a $20 fee on top of the purchase.
Junior Bras for our tweens, pre-teens.
Personal Profiles help friends and family shop for you – get profiled today!
Over 46,000 active customers, 53,500 people measured to date May 2021
Loyalty Program that offers notification on birthday month for 15% off the whole month regular priced items. Also points for purchases that can be used on next purchases.
$10 dollars spent means $1 dollar saved on next purchase
Bra recycle program: Donate an old worn out bra and get 10% off your new regular priced bra. Bra for Bra do not have to be from our stock. Ongoing all the time. If you have an organization that needs gently used bras, please let us know. We donate worldwide and locally to shelters and special needs groups.
10% off your new regular priced bra